SEArica event on leisure boating and water-based tourism Developing a truly European and sustainable nautical tourism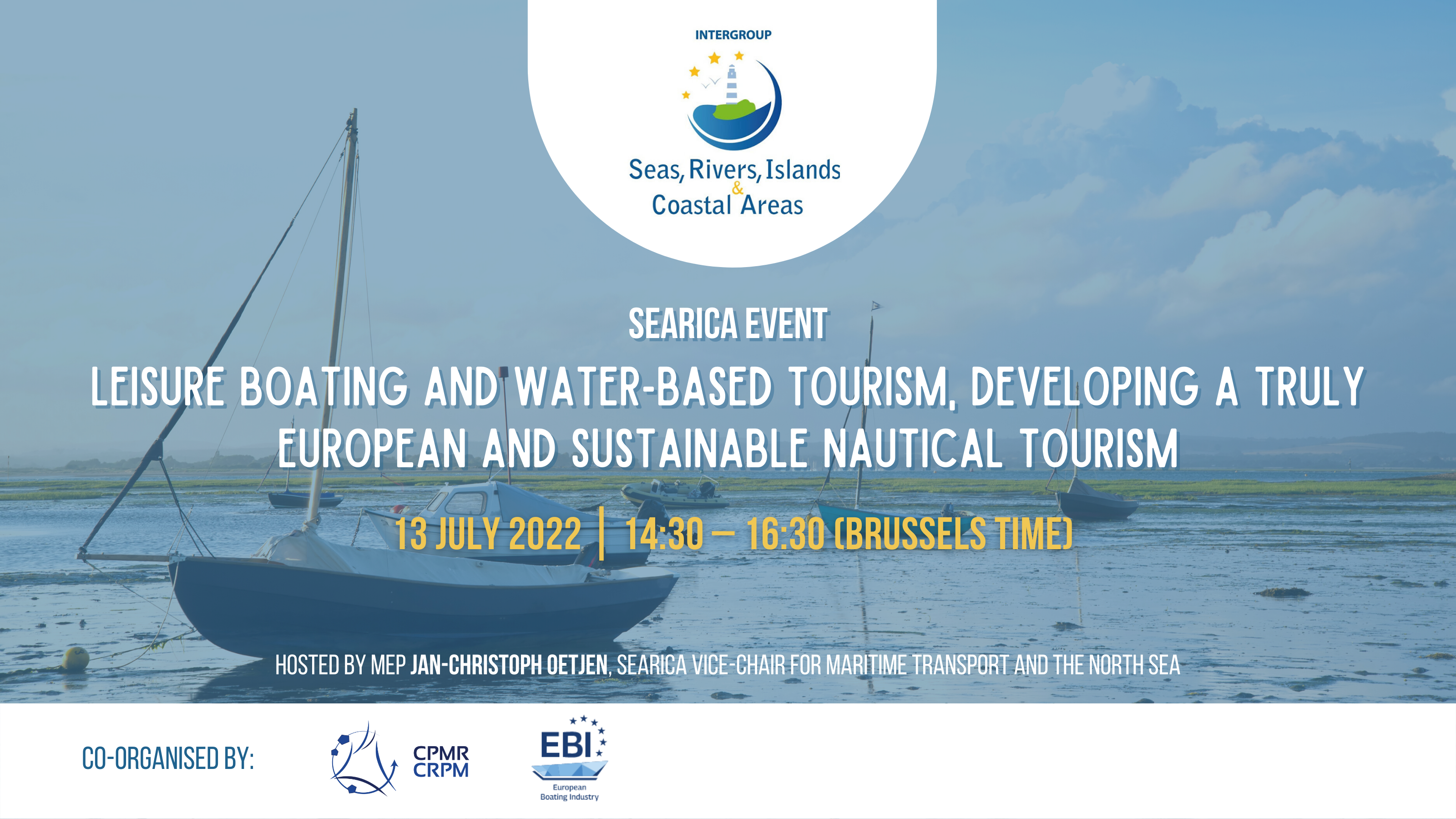 SEArica event on leisure boating and water-based tourism
Developing a truly European and sustainable nautical tourism
Hosted by MEP Jan-Christoph Oetjen, SEArica Vice-Chair for Maritime Transport and the North Sea
Organised with the support of the Conference of Peripheral Maritime Regions & of the European Boating Industry
13 July 2022 14:30 – 16:30
Please find HERE the recording of the meeting 
Blue, water-based tourism is widespread across Europe in the coastal and inland environment. Coastal and Maritime Tourism makes up 45% of the GVA and 64% of the employment of the EU Blue economy (Blue Economy Report 2021). Inland waterway tourism on lakes, rivers, and canals also represents a significant sector and in Germany alone, more than €4.2 billion are generated annually by water-based tourism (Federal Ministry for Economic Affairs and Energy). Both are vibrant sectors and a key source of employment and economic opportunities for European regions connected to Seas, Rivers, Islands and Coastal Areas. The COVID-19 pandemic, which has encouraged staycations and regional tourism offers significant potential to move towards new tourism opportunities and economic development. Boating and nautical tourism therefore offers substantial potential for sustainable growth. In addition, tourism policy is gaining ground at EU level.
The Council Conclusions on Tourism in Europe for the next decade invite the Commission and Member States to design a European Agenda for Tourism 2030/2050. Tourism is also recognised as one of the hardest-hit sectors from the COVID-19 pandemic, and its transformation a centrepiece of the 2021 Update of the EU's Industrial Strategy with the Co-creation pathway for the transition of tourism for a more resilient, innovative and sustainable ecosystem presented in early 2022. Coastal and maritime tourism is also part of the new approach for a sustainable blue economy in the EU. However, as recognised by Commissioner Breton in his invitation for the co-creation of transition pathway for tourism, the EU will have to move towards a different kind of tourism compared to the pre-pandemic world.
Please find HERE the recording of the meeting 
What is an Intergroup?
The Seas, Rivers, Islands and Coastal Areas Intergroup is one of the 27 Intergroups that were approved on 11 December 2019 by the Conference of Presidents for the 9th legislature of the European Parliament. Intergroups can be formed by MEPs from any political group and any parliamentary committee with a view to holding informal exchanges of views on particular issues and promoting contact between MEPs and civil society.
The Seas, Rivers, Islands and Coastal Areas Intergroup brings together more than 100 MEPs from 7 different political groups and 23 Member States.
Intergroups are not Parliament bodies and therefore may not express Parliament's opinion.
Intergroups are subject to internal rules adopted by the Conference of Presidents on 16 December 1999 (last updated on 11 September 2014), which set out the conditions under which intergroups may be established at the beginning of each parliamentary term and their operating rules.