Maritime industries: recovering from the Covid-19 crisis and building a strong renewal strategy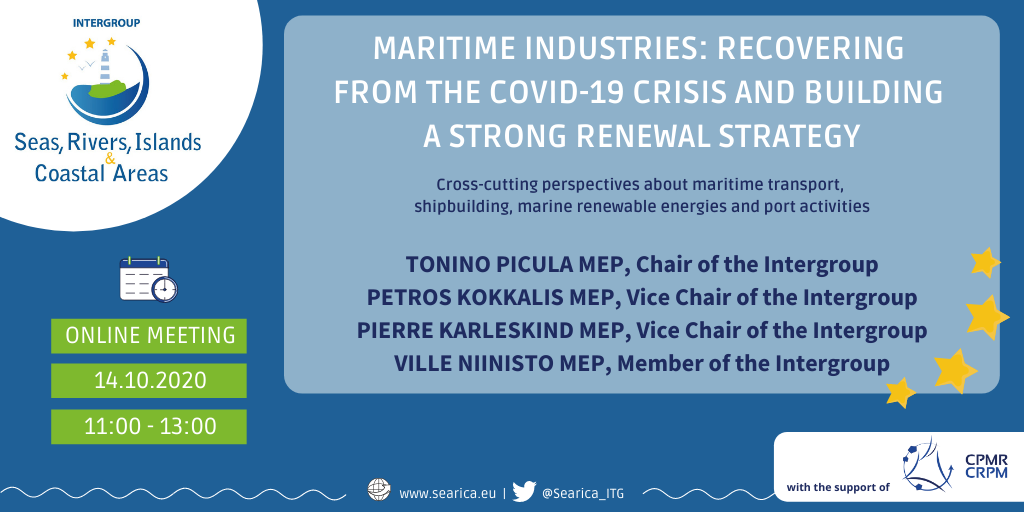 Maritime Industries, a key sector for the EU 
On 10 March 2020, the European Commission published a Communication on a new EU Industrial Strategy. The context of the Covid-19 pandemic and its impacts on the sector and the constantly increasing worldwide industrial competition are calling on the EU for a strong action in this regard. 
Maritime transport and services have proven to be of crucial importance in the middle of the Covid-19 crisis. They kept the whole EU connected and contributed to ensuring that no territory has been left aside, regardless of how peripheral it is. Maritime industries have a central role to play in EU recovery and industry's renewal. This sector, which gathers traditional activities such as shipbuilding and newer technologies such as marine energies, is key for the sustainable development of our coastal Regions and of the whole EU. 
In this context, the Seas, Rivers, Islands and Coastal Areas Intergroup is organising an event to exchange views with key stakeholders on how the EU can answer the needs of the sector. After an opening by the European Commission, the event will be designed as a round table. Representatives of the sector will discuss the impact of the Covid-19 crisis on the maritime industry sector and maritime Regions. It will provide the opportunity to share the views of the stakeholders on the short-term perspectives of recovery and the initiatives taken to support the sector. The panellists will also look at the longer-term perspective, addressing the needs of the maritime industry to contribute to the Green Recovery of the EU. They will focus on the role of the sector in the transition of the Union towards climate neutrality as well as on the needs in terms of access to finance.
Registration is open via this link
You can find the draft agenda for the conference here after.
What is an Intergroup?
The Seas, Rivers, Islands and Coastal Areas Intergroup is one of the 27 Intergroups that were approved on 11 December 2019 by the Conference of Presidents for the 9th legislature of the European Parliament. Intergroups can be formed by MEPs from any political group and any parliamentary committee with a view to holding informal exchanges of views on particular issues and promoting contact between MEPs and civil society.
The Seas, Rivers, Islands and Coastal Areas Intergroup brings together more than 100 MEPs from 7 different political groups and 23 Member States.
Intergroups are not Parliament bodies and therefore may not express Parliament's opinion.
Intergroups are subject to internal rules adopted by the Conference of Presidents on 16 December 1999 (last updated on 11 September 2014), which set out the conditions under which intergroups may be established at the beginning of each parliamentary term and their operating rules.