The Baltic Sea Region – a key Region for European energy resilience in a challenging geopolitical context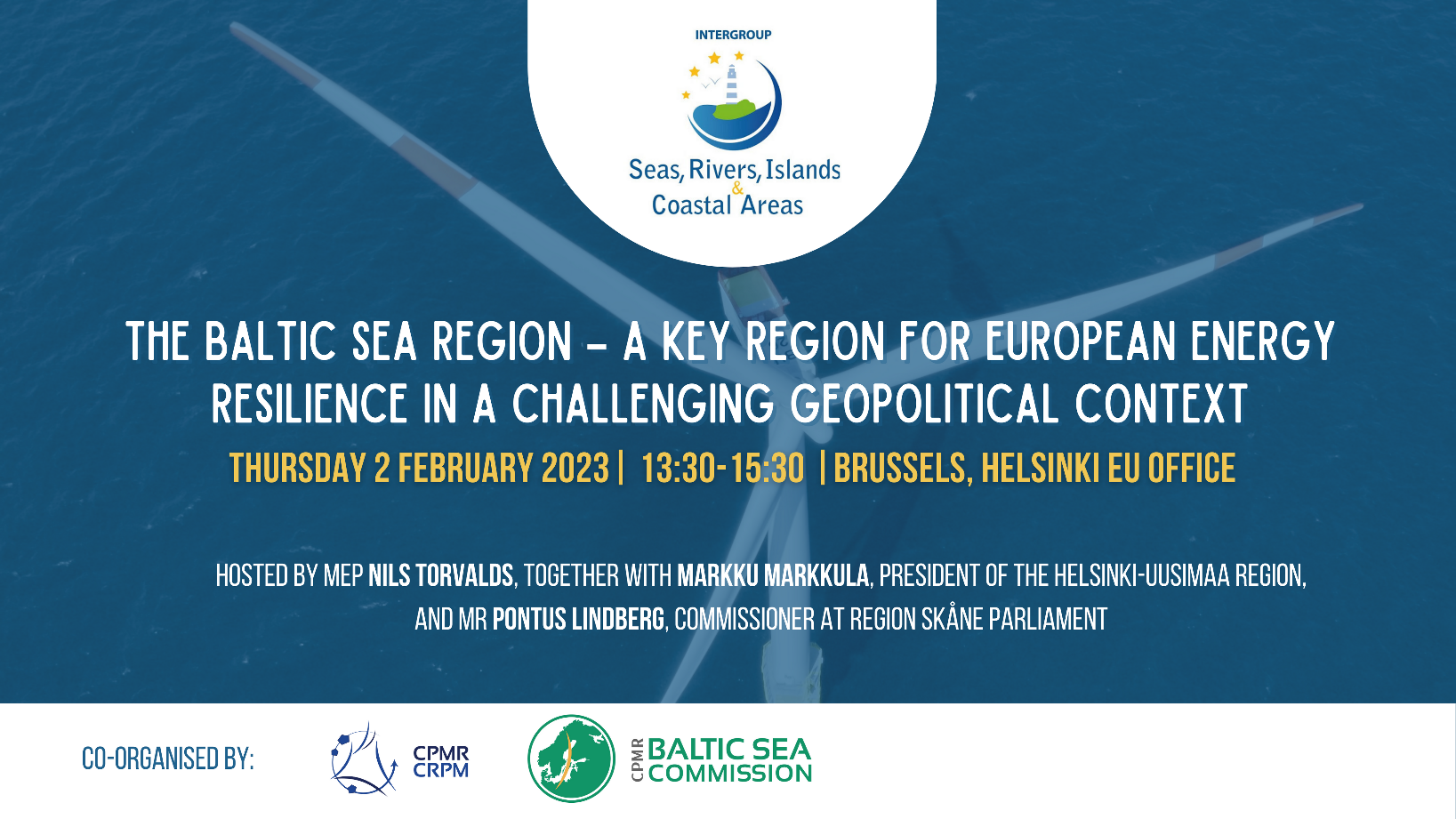 The Baltic Sea Region – a key Region for European energy resilience in a challenging geopolitical context
Hosted by MEP Nils Torvalds, SEArica Vice-Chair for Baltic
Organised with the support of the Conference of Peripheral Maritime Regions and its Baltic Sea Commission
2 February 2023| 13:30-15:30
Brussels Helsinki EU Office, Rue Guimard 7, Brussels
Russia's unprovoked aggression in Ukraine has exacerbated the unprecedented situation in the energy market in the EU, including the Baltic Sea Region. In light of a new geopolitical context and the accelerating global climate crisis, the aim of the seminar is to discuss the current energy challenges in the Baltic Sea Region and the sustainable solutions and actions being developed with the support of the EU.
The seminar aims to showcase and further brainstorm the activities in the Baltic Sea Region as a frontrunner in the deployment of renewable energies, including the role of innovative companies contributing to the overall green transition of the EU and European energy sovereignty and security.
What is an Intergroup?
The Seas, Rivers, Islands and Coastal Areas Intergroup is one of the 27 Intergroups that were approved on 11 December 2019 by the Conference of Presidents for the 9th legislature of the European Parliament. Intergroups can be formed by MEPs from any political group and any parliamentary committee with a view to holding informal exchanges of views on particular issues and promoting contact between MEPs and civil society.
The Seas, Rivers, Islands and Coastal Areas Intergroup brings together more than 100 MEPs from 7 different political groups and 23 Member States.
Intergroups are not Parliament bodies and therefore may not express Parliament's opinion.
Intergroups are subject to internal rules adopted by the Conference of Presidents on 16 December 1999 (last updated on 11 September 2014), which set out the conditions under which intergroups may be established at the beginning of each parliamentary term and their operating rules.