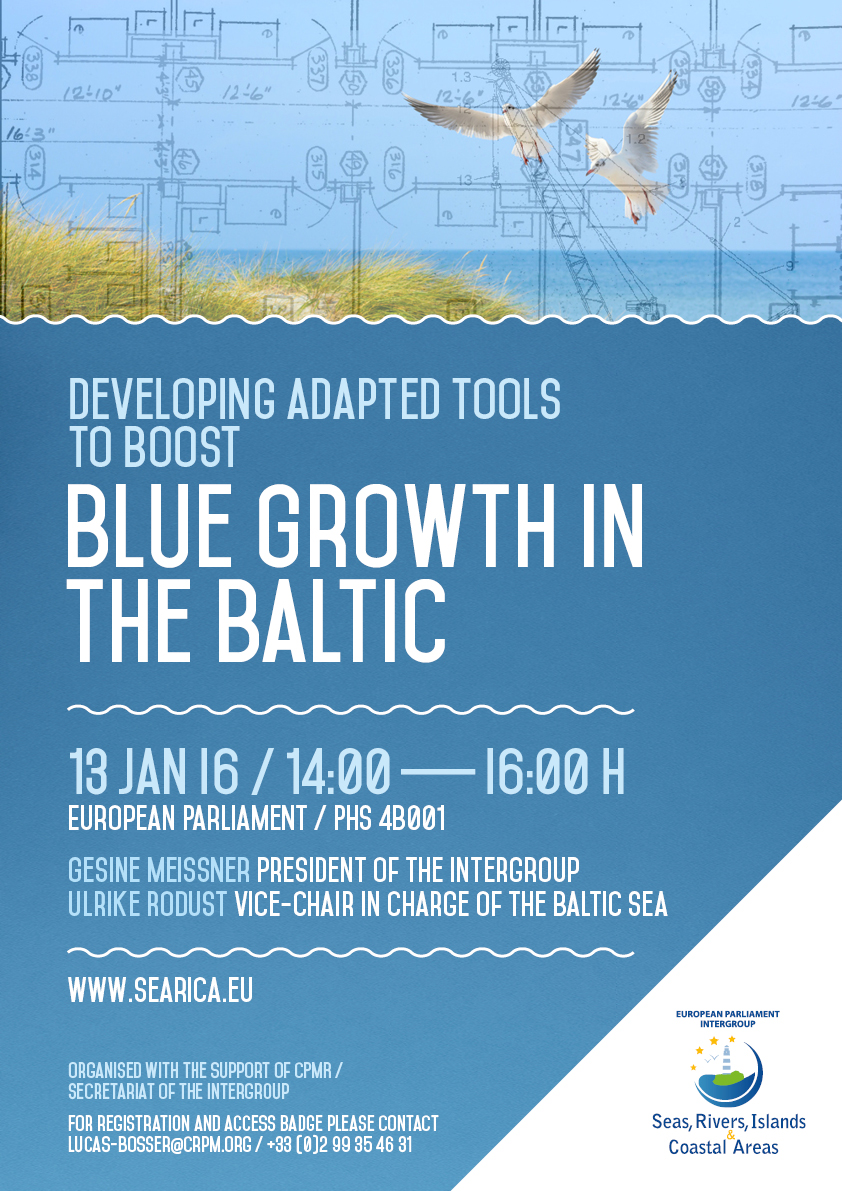 Mrs. Ulrike RODUST, Vice-Chair of the Intergroup in charge of the Baltic Sea, and the Seas, Rivers, Islands and Coastal Areas Intergroup had the pleasure to welcome you to the conference focussing on Blue Growth in the Baltic Area. This conference took place on 13 January 2016 from 14.00 to 16.00 in room P4B001.
This conference aimed to discuss the role of Master Plan for Marine Technologies and investments as drivers for Blue Growth in the Baltic.
MEPs Gesine Meissner, President of the Intergroup, Ricardo Serrão Santos, Vice-President and Sirpa Pietikäinen, contributed to the work, while the European Commission was represented by Bernhard Friess, Director at DG MARE in charge of the Baltic Region.
Mr Friess highligthed that the value chains of the maritime economy go way beyond maritime Regions alone and concern the whole of the EU. He also underlined the importance of the calls for projects that DG MARE will be launching next March designed to meet the challenges of the blue economy in the different sea basins of the EU. These will mainly concern calls under "Blue Careers" and the "Master Plan for Blue Technology".
During the discussions, Dr. Steffen LÜSSE from the German Land Schleswig-Holstein, and Tiina PERHO from Southwest Finland shared their experiences as representative of regional authorities. They both stressed the key role that Regions play in developing maritime activities, notably through their use of EU funds. While Mrs. Angela SCHULTZ-ZEHDEN presented the Submariner Network and Mr Mats SVENSSON the BONUS Programme. Based his experience at the Klaipeda Science and Technology Park, Mr. Andrius SUTNIKAS explained how cluster could contribute to boost the blue economy.
The agenda is available here below.
What is an Intergroup?
The Seas, Rivers, Islands and Coastal Areas Intergroup is one of the 27 Intergroups that were approved on 11 December 2019 by the Conference of Presidents for the 9th legislature of the European Parliament. Intergroups can be formed by MEPs from any political group and any parliamentary committee with a view to holding informal exchanges of views on particular issues and promoting contact between MEPs and civil society.
The Seas, Rivers, Islands and Coastal Areas Intergroup brings together more than 100 MEPs from 7 different political groups and 23 Member States.
Intergroups are not Parliament bodies and therefore may not express Parliament's opinion.
Intergroups are subject to internal rules adopted by the Conference of Presidents on 16 December 1999 (last updated on 11 September 2014), which set out the conditions under which intergroups may be established at the beginning of each parliamentary term and their operating rules.