Marine Knowledge - Supporting Marine Research Knowledge Exchange for Blue Growth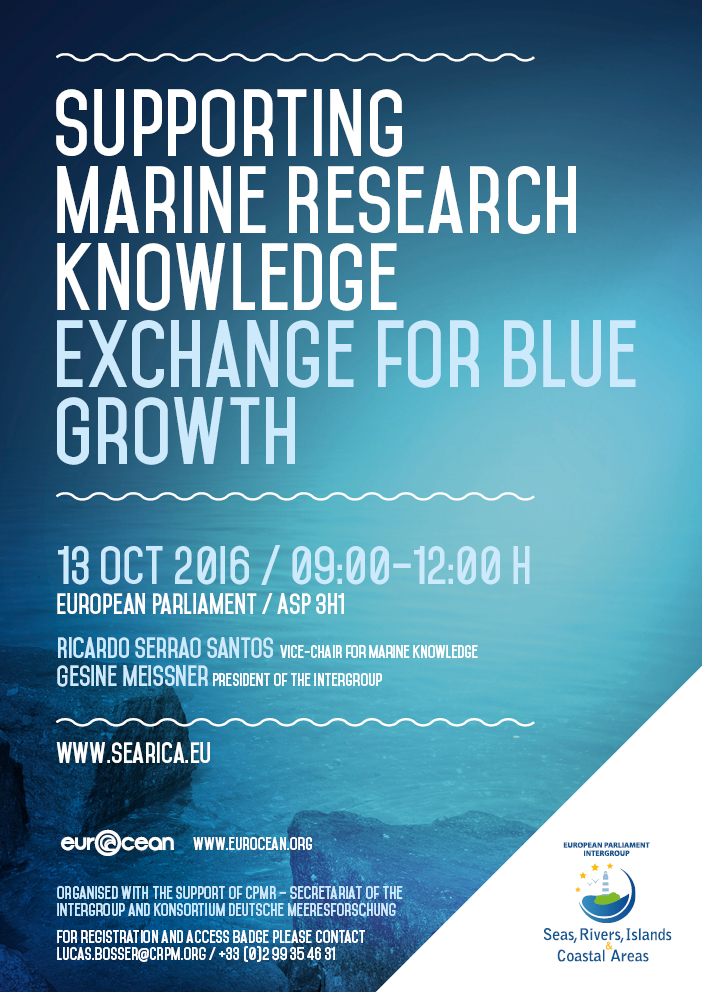 Please note that the event is fully booked. Therefore, we are no longer able to accept registration.
The intergroup together with EurOcean have the pleasure to invite you to the workshop to be chaired by MEP Ricardo Serrão Santos entitled "Supporting Marine Research Knowledge Exchange for Blue Growth" taking place on October 13th 2016 from 09.00 to 12.00.
There has been extensive and growing investment in Marine research and technology through European and national funding programmes over the last decade. Whilst  our knowledge of the Ocean has increased and a range of new technologies have been developed to explore and develop marine resources, there is still much hidden knowledge and   barriers to the efficient transfer of the knowledge gained  from the research and development community to operational business and resource users and those charged with ensuring a sustainable and equitable use of the marine environment, in particular at the regional level.  The objective of this workshop is to explore how we can improve methods, processes and engagement in knowledge exchange between different stakeholders concerned with Blue Growth. In particular this will be an opportunity to develop a dialogue on the specific needs of Europe´s maritime regions and investigate how the activities of organisations such as EurOcean and CPRM can support their knowledge requirements.  This will be addressed by providing experiences of best practice from groups that have already faced the above-mentioned barriers and have succeeded in lowering or eliminating them.  The potential for reproducing or transferring such experiences to different marine thematic areas and sea basins around Europe will also be discussed, as well as European programmes that may be able to offer support. The expected outcome from the event is a set of recommendations on how to improve the sharing and integration of knowledge to support the sustainable Blue Growth agenda.
What is an Intergroup?
The Seas, Rivers, Islands and Coastal Areas Intergroup is one of the 27 Intergroups that were approved on 11 December 2019 by the Conference of Presidents for the 9th legislature of the European Parliament. Intergroups can be formed by MEPs from any political group and any parliamentary committee with a view to holding informal exchanges of views on particular issues and promoting contact between MEPs and civil society.
The Seas, Rivers, Islands and Coastal Areas Intergroup brings together more than 100 MEPs from 7 different political groups and 23 Member States.
Intergroups are not Parliament bodies and therefore may not express Parliament's opinion.
Intergroups are subject to internal rules adopted by the Conference of Presidents on 16 December 1999 (last updated on 11 September 2014), which set out the conditions under which intergroups may be established at the beginning of each parliamentary term and their operating rules.