Ocean Plastics Lab Exhibition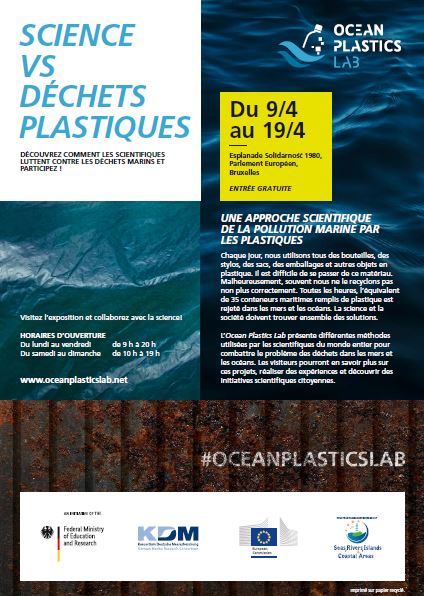 Les évènements des 9, 10 et 11 Avril sont liés à l'exposition Ocean Plastics Lab (lien en anglais) qui sera organisée au Parlement Européen du 9 au 19 Avril à l'initiative conjointe de la DG Recherche et Innovation de la Commission Européenne, du Ministère Fédéral Allemand pour l'Education et la Science et de l'Intergroupe Searica.

Chaque jour, nous utilisons tous des bouteilles, des stylos, des sacs, des emballages et autres objets en plastique. Il est difficile de se passer de ce matériau. Malheureusement, souvent nous ne le recyclons pas non plus correctement. Toutes les heures, l'équivalent de 35 conteneurs maritimes remplis de plastique est rejeté dans les mers et les océans. La science et la société doivent trouver ensemble des solutions.
L'Ocean Plastics Lab présente différentes méthodes utilisées par les scientifiques du monde entier pour combattre le problème des déchets dans les mers et les océans. Les visiteurs pourront en savoir plus sur ces projets, réaliser des expériences et découvrir des initiatives scientifiques citoyennes.
What is an Intergroup?
The Seas, Rivers, Islands and Coastal Areas Intergroup is one of the 27 Intergroups that were approved on 11 December 2019 by the Conference of Presidents for the 9th legislature of the European Parliament. Intergroups can be formed by MEPs from any political group and any parliamentary committee with a view to holding informal exchanges of views on particular issues and promoting contact between MEPs and civil society.
The Seas, Rivers, Islands and Coastal Areas Intergroup brings together more than 100 MEPs from 7 different political groups and 23 Member States.
Intergroups are not Parliament bodies and therefore may not express Parliament's opinion.
Intergroups are subject to internal rules adopted by the Conference of Presidents on 16 December 1999 (last updated on 11 September 2014), which set out the conditions under which intergroups may be established at the beginning of each parliamentary term and their operating rules.