Gas hydrate and offshore geohazard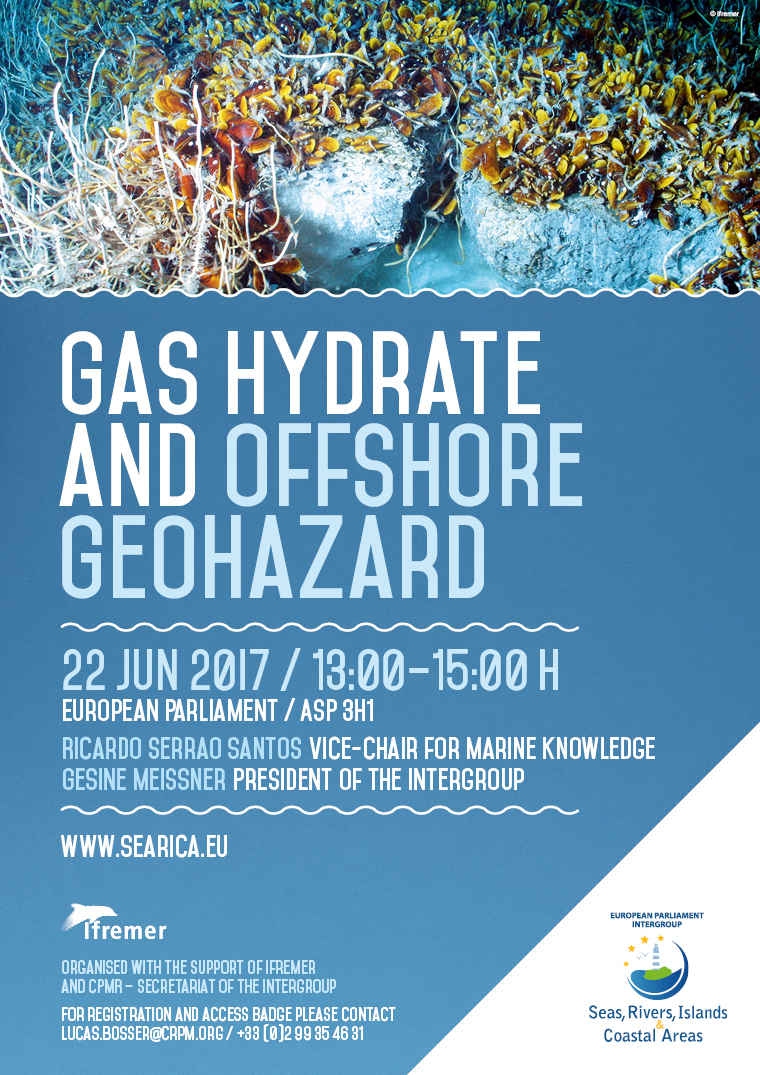 The Seas, Rivers, Islands and Coastal Areas Intergroup organised a discussion on offshore geohazard on 22 June 2017 at the European Parliament in Room ASP 3 H 1.
Offshore geohazards impede the development of blue economy and pose threats to ecosystem functioning. While resource exploration moves further offshore, it is essential to improve the tools and knowledge for identifying risks and set out a strategy for hazard mitigation.
Marine gas hydrates are ice-like solids stored in marine sediment and considered as the largest reservoir of methane, a potent greenhouse gas. Ocean warming and environmental change can induce gas hydrates decomposition causing methane release and further contributing to global environmental change. In addition, hydrate decomposition may destabilize the seafloor with subsequent threats from potential tsunamis and potential hazard consequences on seabed structures.
Supporting the Paris Agreement, UN Sustainable Development Goals and EC 2030 Agenda for Sustainable Development, this issue has challenges to build knowledge on the link between climate change, gas hydrate dynamics and seafloor stability, as well as to deliver an ecosystem study related to this phenomenon.
What is an Intergroup?
The Seas, Rivers, Islands and Coastal Areas Intergroup is one of the 27 Intergroups that were approved on 11 December 2019 by the Conference of Presidents for the 9th legislature of the European Parliament. Intergroups can be formed by MEPs from any political group and any parliamentary committee with a view to holding informal exchanges of views on particular issues and promoting contact between MEPs and civil society.
The Seas, Rivers, Islands and Coastal Areas Intergroup brings together more than 100 MEPs from 7 different political groups and 23 Member States.
Intergroups are not Parliament bodies and therefore may not express Parliament's opinion.
Intergroups are subject to internal rules adopted by the Conference of Presidents on 16 December 1999 (last updated on 11 September 2014), which set out the conditions under which intergroups may be established at the beginning of each parliamentary term and their operating rules.