Presentation of the Ocean Framework: A platform to help companies measure and reduce their impact on the ocean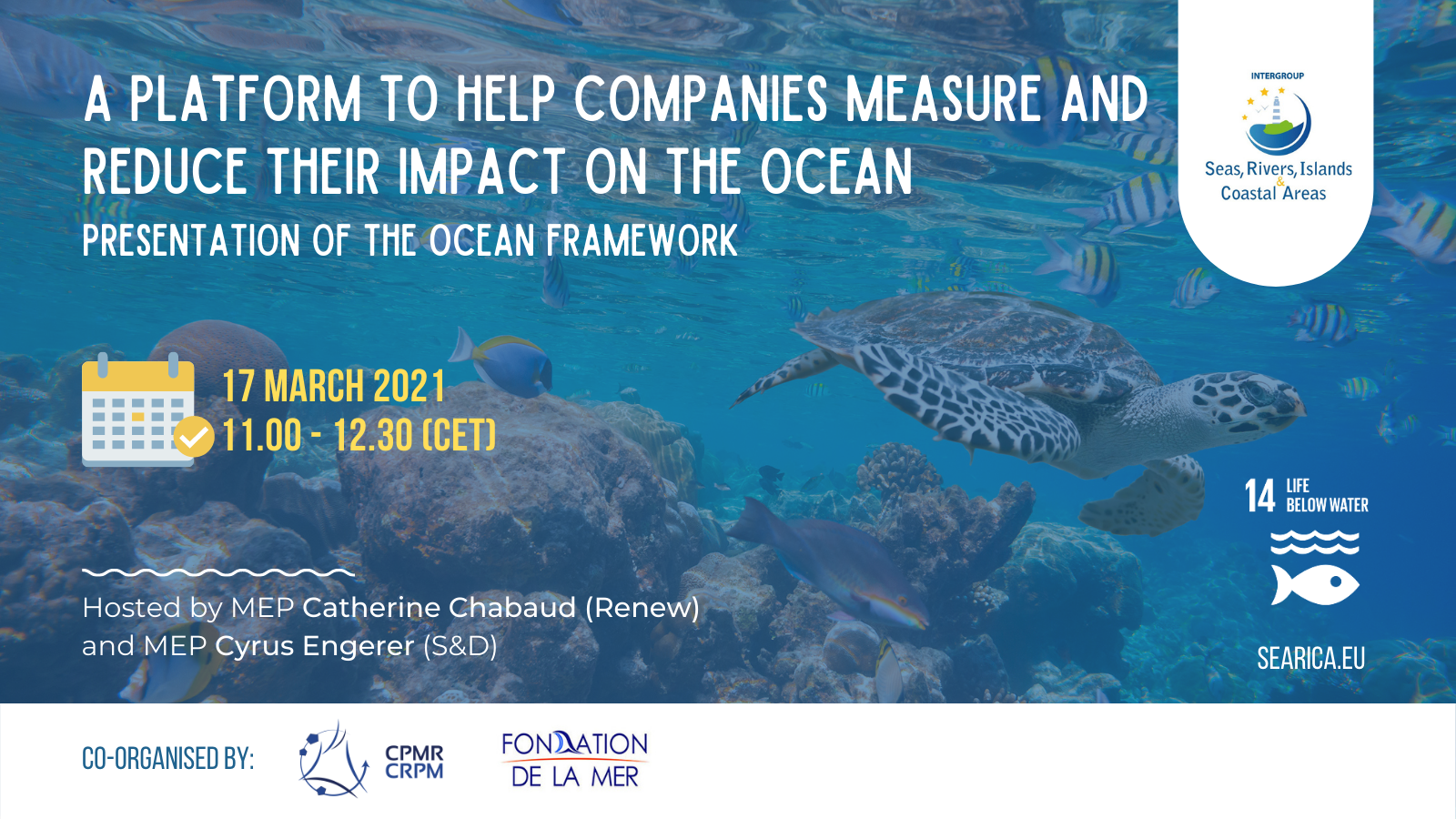 With the support of Fondation de la Mer
Hosted by MEP Catherine Chabaud (Renew) and MEP Cyrus Engerer (S&D)
The ocean's health and integrity are critical for the planet and for human life, and they suffer a lot from unsustainable development. Action must be taken without delay. Companies have a major role to play, but they do not always know how. The Fondation de la Mer, in collaboration with the Ministry for the Sea and with the support of Boston Consulting Group, has developed the first Ocean framework dedicated to companies. Thanks to this robust and holistic tool, companies can now identify and measure their impacts on the Ocean and set objectives for improvement. Built with and for companies and based on the targets of SDG14 (Sustainable Development Goal on the Ocean), the Ocean framework is freely accessible to all.
During this SEArica webinar, Fondation de la Mer presented the Ocean Framework tool and discussed its benefits with a user company, with authors of the mission Starfish 2030 and with SEArica Members of the European Parliament.
Please find the recording of the webinar here and the pdf presentations below
What is an Intergroup?
The Seas, Rivers, Islands and Coastal Areas Intergroup is one of the 27 Intergroups that were approved on 11 December 2019 by the Conference of Presidents for the 9th legislature of the European Parliament. Intergroups can be formed by MEPs from any political group and any parliamentary committee with a view to holding informal exchanges of views on particular issues and promoting contact between MEPs and civil society.
The Seas, Rivers, Islands and Coastal Areas Intergroup brings together more than 100 MEPs from 7 different political groups and 23 Member States.
Intergroups are not Parliament bodies and therefore may not express Parliament's opinion.
Intergroups are subject to internal rules adopted by the Conference of Presidents on 16 December 1999 (last updated on 11 September 2014), which set out the conditions under which intergroups may be established at the beginning of each parliamentary term and their operating rules.