Towards Sustainable Tourism in the Maritime and Coastal Regions of Europe - Perspectives on the recovery from the Covid-19 crisis and beyond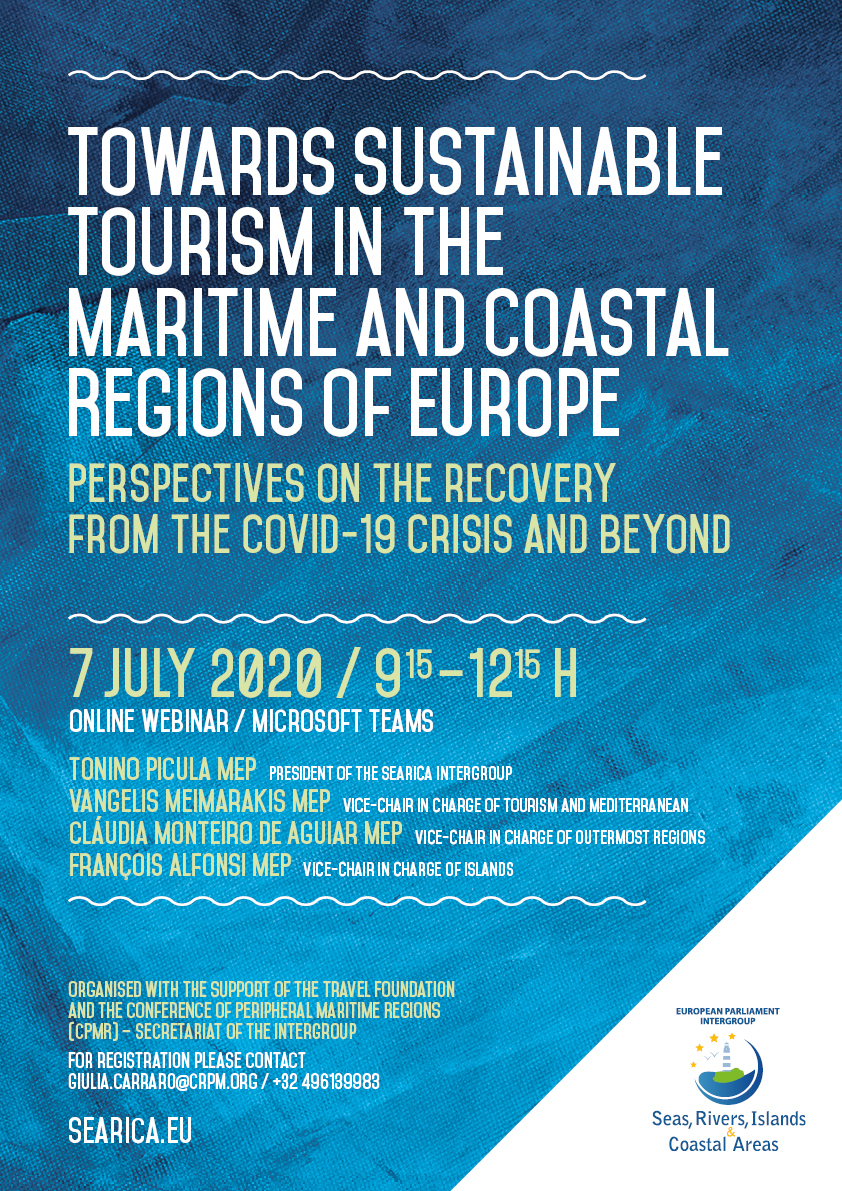 Europe has become the world's number one destination for international arrivals and Tourism creates a surplus for its economy, accounting for more than 10 percent of the EU's GDP and 12 percent of jobs. Tourism can be thus a powerful tool in fighting economic decline and unemployment, mostly among the youth and in peripheral and maritime areas. Nevertheless, the sector is and has been facing a series of important challenges, in terms of demographic and environmental pressures, use of resources, waste and water management or seasonality. Nowadays, Tourism is being especially affected by the current crisis, mainly due to travel and lockdown restrictions imposed to slow down the spread of COVID-19.
This online seminar is organised in the framework of the activities of the Seas, Rivers, Islands and Coastal Areas Intergroup of the European Parliament, Searica, with the support of the Conference of Peripheral Maritime Regions (CPMR) and the Travel Foundation. It will address the impact of the COVID-19 crisis on the Maritime & Coastal Tourism sector in regions of different sea basins of Europe and address the potential way forward, towards a full smart and gradual recovery. The main aim of the webinar is to engage representatives of the EU institutions and key public and private stakeholders in a constructive dialogue on the crisis that is currently affecting the tourism sector with a focus on the Maritime and Coastal regions of Europe, addressing the needs, opportunities and solutions towards a green and smart recovery and long-term strategy.
What is an Intergroup?
The Seas, Rivers, Islands and Coastal Areas Intergroup is one of the 27 Intergroups that were approved on 11 December 2019 by the Conference of Presidents for the 9th legislature of the European Parliament. Intergroups can be formed by MEPs from any political group and any parliamentary committee with a view to holding informal exchanges of views on particular issues and promoting contact between MEPs and civil society.
The Seas, Rivers, Islands and Coastal Areas Intergroup brings together more than 100 MEPs from 7 different political groups and 23 Member States.
Intergroups are not Parliament bodies and therefore may not express Parliament's opinion.
Intergroups are subject to internal rules adopted by the Conference of Presidents on 16 December 1999 (last updated on 11 September 2014), which set out the conditions under which intergroups may be established at the beginning of each parliamentary term and their operating rules.